Summer Solstice 2018 Fundaiser for Ontario Pain Foundation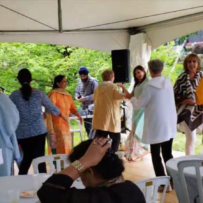 This fun evening celebrated the summer solstice – a magical world by the lake, where anything can happen, from enchanting undulating music, to mesmerizing dancing, to awesome appetizers, to delectable dinner, to decadent dessert, with soft drinks, beer, white wine & red wine.
This is a fundraiser for the Ontario Pain Foundation, supporting the people with chronic pain with many educational projects, pain management and knowledge.
The Ontario Pain Foundation is an independent not-for-profit organization incorporated in the Province of Ontario, with the purpose to advance education and awareness for the benefit of people who live with debilitating pain.
The Foundation supports the local Halton/Hamilton Chronic Pain Support Group, provides support for similar groups in Guelph and St. Catharines, and holds training courses in pain management for local healthcare professionals. These activities are carried out as a community service to the 20% of our population that lives with chronic debilitating pain. Promoting programs & services targeted at introducing, promoting & preserving the cultural & artistic expressions, experiences & abilities of immigrants to enrich Canadian society.