"Dance Around It" featuring Haley Verrall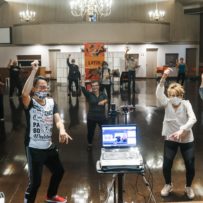 danceScape was pleased to invite Canadian Country Rising Star, Haley Verrall, for a private performance to our danceTONE fitness and Ballroom Open Variations Students – both In-Studio and Online – in appreciation for all your support of the danceScape club and community, based in downtown Burlington. Hayley debuted for us "Dance Around It" and other songs (including "Like You Mean It", which we debuted last year in our Rumba Classes, and a staple in our Music Playlist.)
Hayley is the grand-daughter of Member, Linda Wong (see last year's danceFLOW Express Class & interview on our facebook page at www.facebook.com/dancescapeTV), who has just released her new song, "Dance Around It", available on Spotify, iTunes and amazon music. It is now our new favourite song!!!
danceScape Students who missed the live performance and/or from other classes, we will be sending you a private link in danceScape eZine.
We are so thankful to have all of you as students, friends, and extended family! You can continue to join us in our efforts to support other local artists during this challenging time by registering from registering for our Winter 2021 January classes (www.dancescape.com/classes), purchasing danceScape "Dance disDANCING" Masks (http://shopdancescape.com), or sponsoring live performances at our upcoming private "Practice" events. #shallwedance?
With Gratitude,
Robert & Beverley
www.dancescape.com