Fundraising Highlights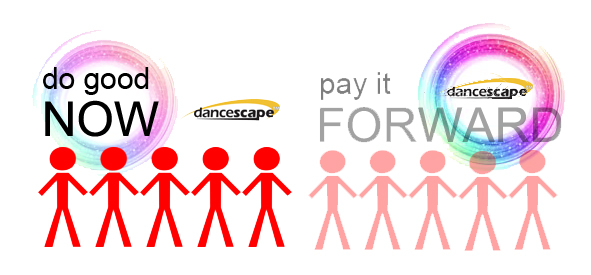 Pay It Forward Goal
danceScape runs a number of Fundraising Events throughout the year. We have two types of initiatives:  "do good NOW" and "pay it FORWARD".
do good NOW
danceScape is often asked to assist in various community fundraisers and events. 50% of net proceeds from danceScape designated fundraisers go immediately to supporting these ongoing not-for-profit community programs and initiatives, whether through Silent Auction and/or Prize Donations, In-Kind Services, and Fundraising or Other Event Ticket Purchases. If you would like to contribute to "do good NOW" programs that do immediate good now, contact danceScape at 905 633-8808 or E-mail [email protected].
pay it FORWARD
50% "pays forward" of danceScape designated fundraisers go into the future of the Endowment fund, which was established through the Burlington Community Foundation. The danceScape Endowment fund has as its goal to raise $25,000 for self-sustainability. "pay it FORWARD" donations directly into the fund can be made online at https://www.canadahelps.org/CharityProfilePage.aspx?charityID=s79610 (from the drop-down menu, select "The danceScape Endowment Fund"). Tax receipts are issued by the Burlington Community Foundation. Or give now by contacting Colleen Mulholland at 905 639 0744 x222 or [email protected].