Summer Solstice 2016 Fundraiser for the Ontario Pain Foundation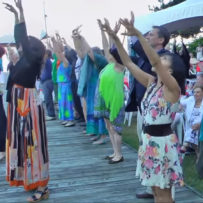 Adding FUN "Sparks" & Sparkles to everyone's "Life Energy" or "Chi/Qi" at Summer Solstice by the Lake with "danceFLOW ChiGong" in support of Ontario Pain Foundation – FUN Fusion of "Mindful Meditation and Movement to Ballroom, Latin & World Music" with traditional Chi (Qi) Gong exercises and dancing with Robert Tang & Beverley Cayton-Tang @danceScape…
danceScape's Robert Tang & Beverley Cayton-Tang added some sparks & sparkles to everyone's "Life Energy" or "Chi/Qi". They presented "lifeFLOW ChiGong" at Summer Solstice by the Lake, their FUN Fusion of "Mindful Meditation and Movement to Ballroom, Latin & World Music" with traditional Chi (Qi) Gong exercises and dancing!
Chi (Qi) Gong is an ancient Chinese art that combines guided meditation with breathing techniques, gentle movement and visualization to promote healing, balance, and circulate your body's vital energy. The goal is to provide stress relief, relaxation, flexibility, fitness, energy balance, and healing. In Traditional Chinese Medicine and Martial Arts, "Chi (Qi) Gong" is a practice of breathing, physical movement, and mind to cultivate and balance Chi which is the "intrinsic life energy".
Traditional Chi Gong dates back to 4000 years and incorporates rhythmic breathing with slow repetition of fluid movement, a calm mindful state, and visualization of guiding qi through the body along meridians paths. Such a wonderful surprise to see students (as well as friends & danceScape alumni whom we have not seen for in a while) who came out to support the event!
This was a FUN evening hosted by Dr. Kiran & Dr. James at their wonderful residence by the Lake in Aldershot (where we used to live), a fundraiser in support of the Ontario Chronic Pain Foundation.
PERFORMANCES & LEARNING:
Salute to the Sun – Surya Namaskar
Russian Dance – Hamilton Russian Dance Group
Beautiful Bollywood – the Malhotra Girls
Mesmerizing Middle Eastern Dance Spanish guitar and Flute duet – Alvero & Giovanni
danceFLOW Chi (Qi) Gong – Robert Tang Beverley Cayton-Tang & Beverley Cayton-Tang, Award-winning dancers from danceScape
The Ontario Pain Foundation is an independent not-for-profit organization incorporated in the Province of Ontario, with the purpose to advance education and awareness for the benefit of people who live with debilitating pain.
The Foundation supports the local Halton/Hamilton Chronic Pain Support Group, provides support for similar groups in Guelph and St. Catharines, and holds training courses in pain management for local healthcare professionals. These activities are carried out as a community service to the 20% of our population that lives with chronic debilitating pain.