Koogle Theatre Cabaret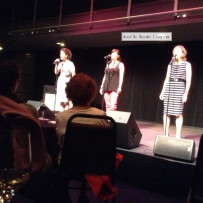 Koogle is a Professional theatre group based in Burlington, Ontario run by husband/wife team, Leslie & Christopher Gray. danceScape was pleased to support the event by promoting to students as well as purchasing tickets to the event.
On Saturday, October 5th, Koogle presented an Evening of Cabaret at the Burlington Performance Arts Centre. The evening featured guest performers from Stratford, Disney, Neptune Theatre, Angelwalk Theatre, Theatre Aquarius and the local Burlington/Hamilton Theatre Community: Laura Caswell, Karen Coughlin, Vince Staltari, Hailey Lewis, Beth Rogers-Cassey & Stephen Koshurba, Michael Mulrooney (piano) and Lynne Jamieson (percussion).