FREE danceFLOW Express qigong/taichi Online Classes – Season 1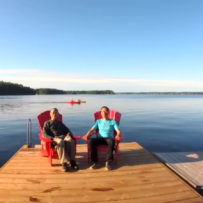 Tune-in to danceFLOW qigong/taichi Express Classes for for Stress/Anxiety, Chronic Pain Management, Flexibility/Mobility and Mindfullness/Mind Control on our Facebook Live page, as well as our Summary Playlist.
Season 1, Class 25
danceFLOW Express with #Robert & Aaron in beautiful #Muskoka. Thanks so much to Nicholas for manning the camera today, and to him, Selina & Autumn for hosting us at their cottage @TouchstoneResort this past week! Special thanks to dad Aaron for joining in a morning of #qigong/Etaichi exercises. – #shine with #RobertBeverley @dancescape
Season 1, Class 32
Guest, Linda Wong, (Chronic Pain Student) – Class 32 danceFLOW #qigong/#taichi Express – #Reflect #Reset Exercises for Stress Relief & Pain Mgmt. Sundays 8.20 am est. #myplantChoir @PLANTChoir Singing Plant and Gift. Lesson Avail 48 hours. – #shine with #RobertBeverley @danceScape..
Tune-in Sundays at 10:20 a.m. for Season 2 of danceFLOW Express! Like our Facebook page at www.facebook.com/dancescapeTV and be notified automatically when classes are broadcast live!