Summer 2019 Summer Solstice Fundraiser for the Ontario Pain Foundation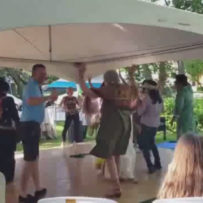 danceScape at Summer Solstice Garden Party by the Lake Garden Party, in support of Ontsrio Pain Foundation. A fun evening of multicultural music and dance arts – from Hollywood Bollywood (Vishu & Shipra), Ballet, and Bachata to Ukrainian (Tyrsa; Hutzel; Paltava) & Russian Folk Dancing and Indian Dhol & Bhangra Dancing (Ravi & Group). With music of Akwaba African Drumming, Classical (Chopin) Piano Recitals (Alan & Peter) and Ukrainian Bhandura Folk Songs.
Dr. Kiran led a Salutations to the Sun Toga demonstration while we led danceFLOW #qigong/#taichi to showcase how we have been helping others with Stress and Pain Management through moving meditation and mindfulness exercises.
Normally held by the lakeside, with the water levels so high this year, this ended up being a Garden Party Celebration of Culture, Arts in support of people living with Chronic Pain.
So wonderful to re-connect with Olga who over 20 years ago, when we did a book launch for Author John Reynolds – "Ballroom Dancing – The Romance, Rhythm & Style" with the Ontario DanceSport Association. We were at the point of soon turning professional but not yet announcing formally … we happened to mention in casual conversation with dance friends and general public in attendance that we practiced in a community hall in the village of nearby Waterdown and that a proper Ballroom in Burlington with wood floors was impossible to find. Then a voice from behind us says "I know a place in downtown Burlington where our group has just finished renovating…" and there began and continued our conversation and life journey with Olga.
And we will soon celebrating be celebrating our 20 year Anniversary of danceScape in downtown Burlington. Thank you Olga for being part of our life journey, so much fun reconnecting, and thanks Linda, for bringing Olga!
And what fun conversations at our table with Peggi & Michael from Wellbeings Pain Management and Dependency Clinic in Aldershot! Great to see Stephen, Debbie, Donna and special congrats Matthew for all your accomplishments, not only in dance/bandura but also academically and as co-valedictorian!
Last but not least to Highlander Brew Company (had their refreshing new "Aphrodite!!" #apple #pomegranate #shandy #3.5%, refreshing summer drink), Montfort Grill, and Dinner is Served for Beverage and Food.
For more information about next year's event, please check out the Ontario Pain Foundation. Thanks to Dr. Kiran & Dr. James for all you do for the Pain Management community!