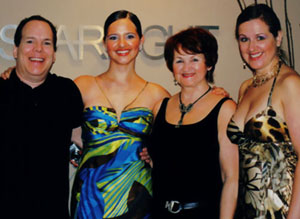 There are two things in my life that have helped me greatly in dancing. First, I have played the drums since I was 4 years old, and still do actively. I am currently in a Big Band (1940's style). Second, I have been in the martial arts for over 30 years. So, before ever getting into the dance community, I had a good feel for the beat of music, and decent mind/body coordination skills.
So, how in the world did I get into dancing?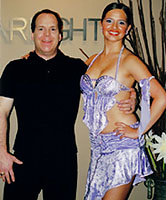 Simple. I met and married a woman from Russia. She has a daughter who had been Ballroom Dancing (Standard and Latin international style 10 Dance) from the age of 4. Her name is Barbara, and she is still dancing, has won national championships, and has been undefeated in every competition she has entered over the last 4 years. She dances Pro-Am, which basically means that when she is competing, she dances with a professional partner – usually an instructor.

The problem is that I am a consultant, and my business takes me all over the country. We usually find ourselves in one place for less than a year at a time. As a result, many times, we cannot find professionals of the caliber that Barbara needs for practice or competition.



So about two years ago, I stepped in to be a stand in partner for Barbara. While I do not compete myself, I do all the practice routines with Barbara to keep her in competition form.
Besides competing, Barbara and I have performed many showcases for various charities, Country Clubs, USABDA (USA Dance) and senior centers across the US as a father-daughter dance team. We do these on a volunteer basis, to teach Barbara to be thankful for having such a great talent. We appeared on a PBS special entitled "Ballroom and Beyond" filmed at Florida State University in April of 2005 under the direction of Professor Carolyn "Kay" Picart.

My wife, Amina, having had previous dance experience herself in Russia, and a mind like a steel trap when it comes to Ballroom and Latin routines and figures, acts as our coach for the showcase routines. Amina and I dance recreationally. We have been asked by several dance studios to put on showcases, but Amina is very shy, and prefers that any showcases be performed by Barbara and I. As a family, we all dance, and do exclusively international style, which is unusual for recreational dancing, however, it is more to benefit Barbara for her competitions. While Amina and I have never competed, we do not rule this out for the future.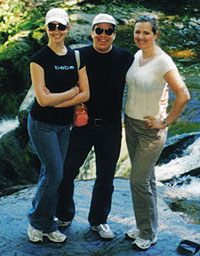 The "Big Band" that I play the drums for (The Mac McNulty Orchestra) likes to showcase Barbara and I when putting on concerts and shows. Unfortunately, due to my main business and the resulting travel, I do not get to play with them as often and regularly as I like. As a result, they have several "stand-in" drummers for the times I am absent.
Having been into physical exercise (martial arts) most of my life, and having knowledge of a healthy diet and lifestyle, I have to say that Ballroom Dancing is great exercise, and it helps keep the mind, body, and spirit as well as relationships healthy. As such, I can see my entire family continuing dancing for the rest of our lives.